Motorhome travels at a ghost town
When it comes to heritage, Te Tai Poutini the West Coast has plenty of iconic hot spots and hidden gems that await discovery. In this article Tohu Whenua's Claudia Babirat explores her favourite of them all: Waiuta.
Do you give your travels a theme? Pete and I started doing so when we were on our third van trip in the United States. We came across a book about hot springs and this became our most cherished travel guide. Now that we're seeing a lot more of the South Island we've applied the same principle here, travelling familiar routes with fresh goggles on.
And although we still love hot springs, the winning theme here so far is exploring heritage sites.
Last October Pete and I spent a month in our house truck poodling slowly up Te Tai Poutini the West Coast in a return loop from Kumara to Karamea, discovering the region's many mining relics and historic townships. The inspiration came partly from my part-time role with Tohu Whenua, a national visitor programme that works with regional communities to identify and promote New Zealand's most treasured heritage places. I was keen to get a better personal experience of the West Coast Tohu Whenua sites I was promoting - and discover other hidden heritage gems along the way.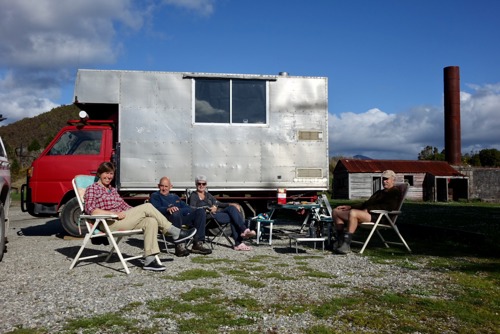 Relaxing with friends outside our house truck at Waiuta. Image: Claudia Babirat
I've never described myself as a history buff, but as we visited each Tohu Whenua in person, learned the stories behind them and met the salt-of-the-earth locals who care for them, I began seeing history in a completely different light. It's hard to explain, but it kind of started coming alive. There are places where you can stand among the ruins of once huge industrial gold mining complexes that are being reclaimed by forest one minute, see where scores of coal miners washed themselves in concrete bath houses overlooking the ocean the next, or shop, dine and do gin tastings in charming 'Wild West' style towns that proud locals have breathed new life into. What's more, this history is ours. It's uniquely Kiwi. What happened at these places helped shape our culture, their stories are part of all of us.
And now I'm completely hooked.
Of the five West Coast heritage sites that are recognised as Tohu Whenua, I do have a clear personal favourite. That place is Waiuta, the West Coast's best ghost town.
Waiuta was a bustling mining town for about 45 years, growing rapidly after the discovery of a gold-bearing quartz reef in a remote tributary of the Grey River in 1905. Its mines produced nearly 750,000 ounces of gold (today this would be worth $1.6 billion!) before its sudden closure in 1951 following a major collapse in the Blackwater shaft.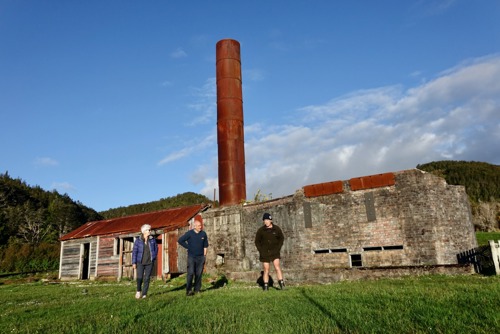 Exploring the remains at Waiuta's Blackwater Shaft. Image: Claudia Babirat
The turnoff to Waiuta is less than an hour south of Reefton. Once you're off the main road it's gravel, narrow and winding (definitely not recommended for caravans). We simply took it very slowly in the house truck and it was worth the effort - when we emerged from the forest it was like we'd found a lost world. Thankfully self-contained vehicles are allowed to camp at Waiuta for a night or two, we found we needed the time because there was simply so much to explore.
The first thing we did was wander around the old township. Despite the remote location, Waiuta's residents clearly knew how to make their own fun. We came across the remains of an olympic size swimming pool, tennis courts and bowling greens, a rugby field with posts still standing and somewhere under the scrub there's apparently a dog racing track. Although many of the houses were removed after the mine shut down, the town's layout is still clear. The most obvious building is Waiuta Lodge which was faithfully modelled after the hospital that stood on this site and is now a bookable Department of Conservation lodge. Other buildings include a barber's shop, police lockup and the cottage of Jos Divis whose beautiful photography captured the spirit of Waiuta's residents and is displayed on the many interpretation panels.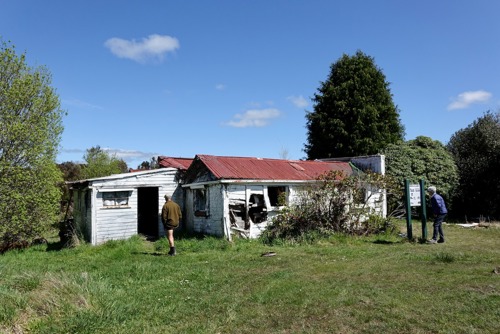 Jos Divis's cottage at Waiuta - thanks to recent funding, restoration will commence shortly. Image: Claudia Babirat
We had to do a bit of walking to get to the most impressive gold mining ruins. Prohibition Mine is located on the hill above Waiuta, its solid concrete foundations still largely intact. The mine is 879 m deep, the last 200 m of which are below sea level! We also tackled the steep 2.5 hour return track down to Snowy Battery. This is where gold was pounded out of quartz rock using the water powered 'battery' of iron stampers, before being further processed in colossal cyanide tanks that still stand by the river.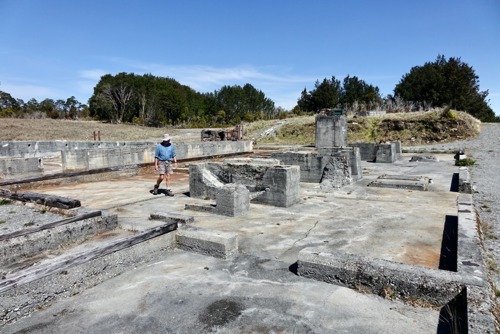 Exploring Prohibition Mine at Waiuta. Image: Claudia Babirat
Then we changed tack. Leaving our house truck at the carpark, we slung on our overnight packs and followed the 4-hour long largely benched pack track that leads to Big River Hut. Equally full of mining relics, Big River was once the heart of the 'Quartzopolis' goldfields (Quartzopolis was the nickname given to nearby Reefton). We used the very homey Department of Conservation hut (which has killer views of the surrounding mountains) as our base to explore the many mining relics. The highlight of these was the walk up to one of the West Coast's few remaining hardwood poppet heads used to winch buckets of quartz down to the processing plant by the river. The winch house has been beautifully restored, containing two huge boilers and winding gear.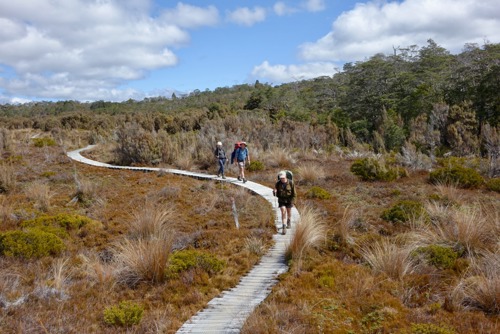 On the track to Big River hut and mining area - a four hour walk from Waiuta. Image: Claudia Babirat
Back at Waiuta, our last day was one of pure relaxation - and thanks to good mobile phone reception our cabin-on-wheels doubled as my office for half a day.
In conclusion, Waiuta simply has everything. Great scenery, stories, modern facilities, historic relics galore, it feels safe, there are so many options for exploring and it still gives you that sense of discovery far from the madding crowds. It certainly deserves its Tohu Whenua status as one of our nation's most treasured heritage places.
Other Tohu Whenua heritage sites on Te Tai Poutini the West Coast that you might enjoy:
Denniston Mine - Once a leading coal mining town, Denniston sits high on the edge of a steep incline railway once described as the eighth industrial wonder of the world.
Brunner Mine - An event that shook the nation, Brunner Mine pays homage to New Zealand's worst ever workplace disaster, which ultimately sparked West Coast unionism and better safety legislation.
Historic Reefton - Nicknamed Quartzopolis and the Town of Light, Reefton was the booming commercial centre of quartz reef gold mining and the first place in the southern hemisphere to supply electric street lighting.
Hokitika Port, Commercial and Government Centre - Hokitika first drew Māori for its rich source of pounamu, and later became the most valued port of the West Coast gold rush era.
Te Kopikopiko o te Waka - With panoramic views of Kā Tiritiri o te Moana/The Southern Alps and a great vantage for Te Weheka/Fox Glacier, Te Kopikopiko o te Waka tells the important celestial story of how Te Wai Pounamu/the South Island came to be.
Regional brochure download here.
Follow us and share your #TohuWhenua