5 best half-day heritage walks for autumn
Bright blue skies, trees ablaze with colourful autumn foliage, and tranquil tracks - smart walkers know that autumn is one of the most glorious seasons to be in the great outdoors. It's also a great time of year to discover more of New Zealand's unique history with Tohu Whenua.
Here are our favourite half-day walks that allow you to explore our country's most treasured heritage places in the full glory of autumn.
Arrowtown Chinese Settlement and Arrow Bridges River Trail (Otago)
Historic Arrowtown is hands-down one of the country's top destinations for autumn colours. Start at the Arrowtown Chinese Settlement to stroll under a golden canopy of trees and peek into several restored huts that were built by Chinese miners during the 1800s gold rush. Ah Lum's store is the largest of these, but still very modest by today's standards. As you stand inside try to imagine this space housing a bustling shop, an office/bank, kitchen and bedrooms! Snap a photo of the extremely photogenic Police Camp Cottage before making your way to the start of the Arrow River Bridges Trail that meanders along the true left bank of the Arrow River. A bridge further downstream connects you back to Arrowtown's charming historic centre where a hot chocolate or mulled wine awaits.
Top tip: Join a free guided historic walking tour or a historic tree walk during the Arrowtown Autumn Festival (22 - 26 April 2021).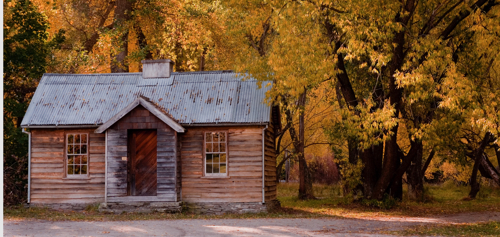 Photo: Police Camp Cottage in historic Arrowtown
Kororipo Heritage Park and Kerikeri River Track (Northland)
If you're escaping to the warmer climes of Te Tai Tokerau Northland, make sure you plan at least half a day at Kororipo Heritage Park. The park was named a Tohu Whenua because it's where some of the most important early meetings between Māori and Europeans took place. To walk in the footsteps of renowned chief Hongi Hika and early European missionaries, follow the track from the historic Stone Store to the recreated fortification at Kororipo Pā. The fortification offers panoramic views over the river and heritage buildings. Meander through the quaint gardens behind Kemp House, New Zealand's oldest standing building, before crossing the bridge. Here you have the option of exploring Te Ahurea, a recreated Māori fishing village (entry fee applies), or heading upstream along the Kerikeri River Track. This 1.5 hour walk takes you through regenerating forest past a historic powerhouse and the magnificent Rainbow Falls.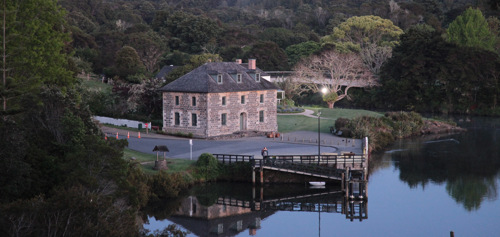 Photo: The Stone Store at Kororipo Heritage Park. Claudia Babirat
Dunedin Inner City Heritage Walk (Otago)
Immerse yourself in Dunedin's outstanding Victorian and Edwardian architecture by following one of two inner city heritage walks. Each loop walk is just over two kilometres in length and takes you past stunning churches, grand old hotels, a Victorian Gaol and many other fine examples of period architecture - all proudly retaining their strong sense of New Zealand history. One of the highlights is the ornate and flamboyant Dunedin Railway Station, recognised as a Tohu Whenua and considered one of the world's most beautiful stations. Make sure you take a look inside the lavish booking hall, which features a mosaic floor of almost 750,000 Minton tiles and stained glass windows. The map for these city heritage walks is available from the Dunedin iSITE.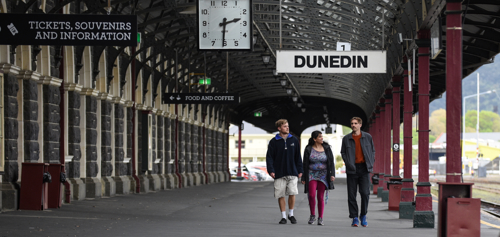 Photo: Dunedin Railway Station, Michael McQueen
Denniston (West Coast)
Once a leading coal mining town, Denniston sits high on the edge of a steep incline railway that used to be described as the 8th wonder of the world. A true West Coast gem, Denniston offers several great walking options. The 40-minute Brakehead loop is a must-do. Starting from the car park above the Brakehead this walk leads to a viewpoint at the top of the famous Denniston Incline, past Denniston's first settlement 'The Camp' and on to the Banbury Arch (a drystone arch) viewpoint. It returns via the historic mine workshop site. Further up the road, the 1-hour return Coalbrookdale Track features relics such as tunnels, a haulage winch and the country's best remaining example of a mine fanhouse.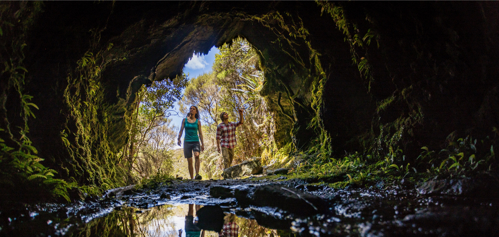 Photo: Coalbrookdale Track, Dennison. Jason Blair
Bannockburn Sluicings (Otago)
The Bannockburn Sluicings are a spectacular landscape of cliffs and pinnacles that remain from large-scale water blasting during the 19th century search for gold. The start of the 1.5 hour loop track, which heads into an arid man-made canyon, feels like you're walking into a 'Wild West' movie set. Explore what is left of the dams, tunnels, walls, and water races built to feed precious water to various mining sites. Keep an eye out for remnants of stone and earth houses, the blacksmith shop, and caves and rock shelters where the poorest miners once lived. Little remains of the Stewart Town settlement: a miner's stone cottage and an orchard planted in 1906.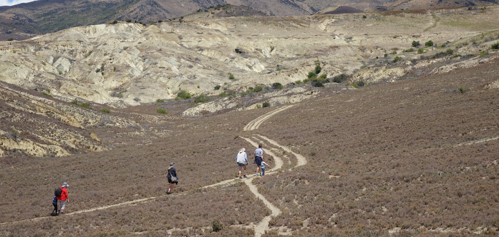 Photo: Bannockburn Sluicings, Claudia Babirat


Follow us and share your #TohuWhenua