Flat-pack furniture at NZ's oldest house
The story behind the 200-year old mahogany dining chairs at Kemp House at Kororipo Heritage Park in Kerikeri.
One of the very special things about visiting our country's oldest standing house, Kemp House at Kerikeri's Kororipo Heritage Park, is that every single item in it comes with an intriguing story.
That includes four beautiful mahogany dining chairs.
The chairs were brought to New Zealand by Francis Hall, who served as the first storekeeper at the Kerikeri Mission. Although they would have been very valuable at the time, Hall left them behind when he made a hasty departure from the mission in 1822 (just three years after his arrival in the Bay of Islands).
Why did Hall leave them behind, and why did he leave so soon?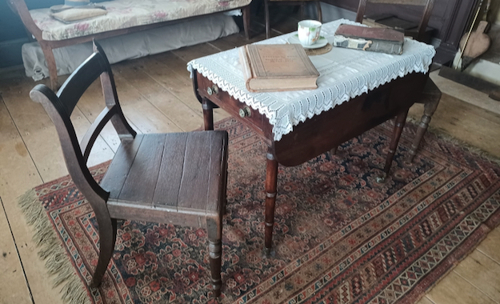 One of four 200-year-old mahogany chairs left behind by Francis Hall in 1822. Photo: HNZPT
It appears that life in frontier New Zealand was just a little bit much for him.
From the get-go, Hall didn't get on with the increasingly unpopular Rev John Butler. Butler was the Church Missionary Society's first ordained minister and superintendant at Kerikeri and Hōhi, a person whom Hall had to work alongside.
What's more, the missionaries were obliged by circumstances to live in relative poverty, quibbled over supplies, rations and the amount of their salaries. As storekeeper, Francis Hall would likely have been in the middle of it all.
Hall resigned as storekeeper in June 1822. Interestingly he didn't leave the mission until December that year - a time that was probably determined by the next available ship.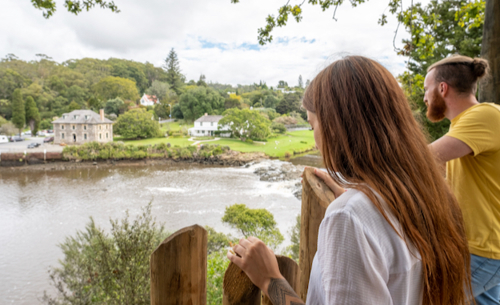 Looking towards Kemp House (white) and The Stone Store at Kororipo Heritage Park. Photo: Mark Russell
The speed of his departure – or possibly more his determination to get out of there – may be reflected in the fact that he left behind the said mahogany chairs, items of furniture that would've been quite valuable at the time. The chairs were an early example of flat-pack furniture, probably bought in Sydney (or Port Jackson as it was then known) and put together at the mission. Hall obviously followed the instructions because they've lasted for 200 years!
Leaving behind his dining chairs may indicate that he had too many belongings to include in the boat – or that he was a lousy negotiator.
Another indicator perhaps of Hall's desperation to leave was the fact that five Māori men were paid an axe each to row him out to a whaler waiting to take him away. That was the equivalent of a month's wages for each of the men.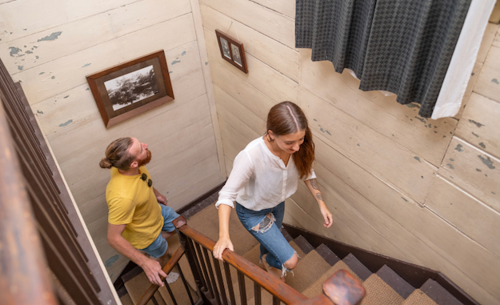 You can visit Kemp House where the mahogany chairs are on display. Photo: Mark Russell
These days Kemp House and the surrounding area, which is known as Kororipo Heritage Park, is a place that visitors from all over the country come to visit - and linger in.
Kororipo Heritage Park is recognised as a Tohu Whenua - one of our country's best heritage experiences - and is proudly cared for by Heritage New Zealand Pouhere Taonga.

Adapted from a story by John O'Hare
Follow us and share your #TohuWhenua