Learn history where it happened with Tohu Whenua
Tohu Whenua landmarks tell some of our nation's defining stories, which makes them ideal for students learning our history.
From 2023, the national school curriculum (which includes The New Zealand Curriculum and Te Marautanga o Aotearoa) will feature Aotearoa New Zealand's histories and Te Takanga o Te Wā. This update to our national curriculum ensures that all ākonga (students) will leave school or kura with an understanding of our histories and how they have shaped our nation.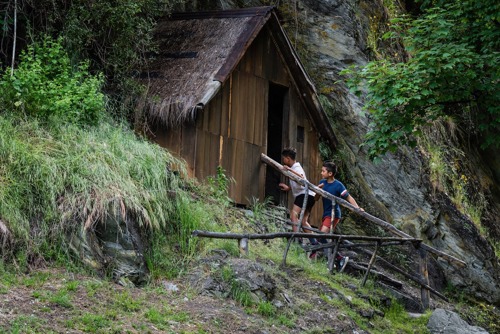 Tohu Whenua heritage places are ideal for students to learn about our unique history. Image: Clare Toia-Bailey
But are teachers aware of the education opportunities at Tohu Whenua places? The Tohu Whenua team recently undertook a project to make it easier for teachers to find education opportunities at some of our nation's most significant heritage sites.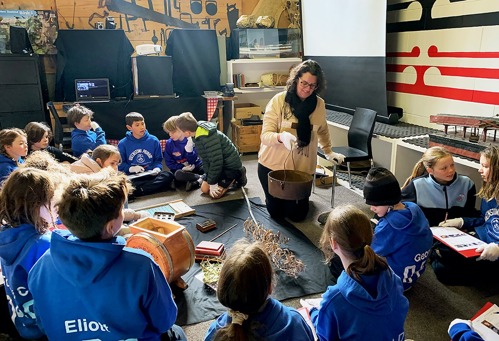 Amanda Viana, education programme manager at the Lakes District Museum, with a hands-on class visiting Arrowtown. Image: Lakes District Museum
The first step was to get a detailed snapshot of what organised education opportunities are available to schools and kura across all our Tohu Whenua.
We found that each Tohu Whenua region has at least one Ministry of Education funded centre offering programmes at and about Tohu Whenua places. These centres have dedicated educators who offer many different heritage programmes fully linked to the curriculum. One such example is Lakes District Museum located in Arrowtown, a Tohu Whenua with rich Māori, European and Chinese heritage. Amanda Viana and her education team at the museum offer ELC (Enriching Local Curriculum) courses across all year levels. Teachers can choose from online lessons, have an educator come to their school, or be immersed in heritage at the museum and around Arrowtown. Programme options are activity based and designed to suit all styles and stages of learning, and are well supported by pre and post visit material.
Waitangi Treaty Grounds in Te Tai Tokerau Northland and Marsden Valley Education Centre located at Shantytown on Te Tai Poutini West Coast run in a similar manner, with the latter hosting school groups across the entire region including several different Tohu Whenua such as Brunner Mine, Waiuta and Denniston.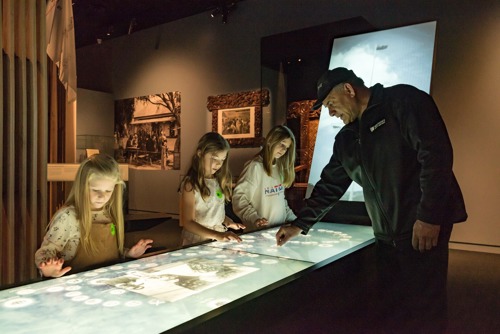 Waitangi Treaty Grounds off Enriching Local Curriculum education opportunities for teachers and students. Image: Waitangi Treaty Grounds
Also providing curriculum linked opportunities is the Otago Central Rail Trail Trust. The trust has just developed 6 online Rail Tales enquiry plans for teachers who want to take their students on an actual or virtual trip along our country's first Great Ride through historic farming and gold mining communities.
Not surprisingly many Tohu Whenua places that offer guided tours or commentaries to visitors also often host school groups. These include Tohu Whenua that are owned and operated by Heritage New Zealand Pouhere Taonga, as well as places such as Larnach Castle, Olveston and the TSS Earnslaw. Tours are usually very interactive and hands-on, and although some can be tailored to suit what the class is studying, teachers often have to make their own curriculum links. Two other very special opportunities we need to mention here - Reefton i-site can arrange heritage school tours with a knowledgeable local, and the Otago Goldfields Heritage Trust offer free heritage tours of Bannockburn Sluicings (and gold panning on request) to school groups.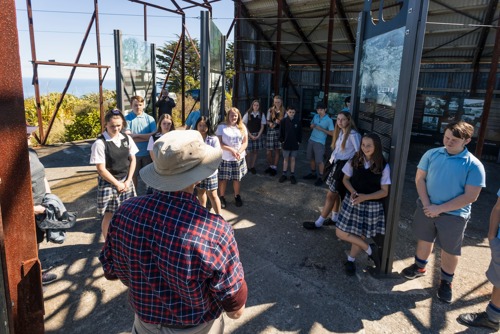 Learning history where it happened - Buller High School students visit Denniston Mine north of Westport. Image: Jason Blair.
We've summarised all the Tohu Whenua education opportunities on our new education hub. This includes matching the Tohu Whenua landmarks that relate to each of the Big Ideas in Aotearoa New Zealand Histories, and the more detailed Understand, Know and Do sections - according to year level.
If you're a teacher and reading this, it's important to remember that whether or not a Tohu Whenua has resources specifically developed for school groups, all Tohu Whenua have nationally significant stories to tell, are readily accessible and have plenty of onsite interpretation.
For more information visit our heritage education hub here.
Follow us and share your #TohuWhenua