Heritage places your kids will love
Be a history detective. Get hands-on in an inventor's workshop. Visit a pā site. Learn to bind books at our oldest printery. Make damper at a historic farm. Tohu Whenua heritage landmarks are great for kids!
Tohu Whenua are ideal for exploring with your whānau! Expect great storytelling, hands-on discovery, good accessibility and amenities that make your visit easy and comfortable. Kids will love the many extra ways that we try to make their visit even more fun. Depending on where you go, this could be through self-guided scavenger hunts, special activities, entertaining tour guides, interactive digital technology, and simply by providing spaces where kids can be kids. At several locations where fees apply children under the age of 18 go free when accompanied by a parent or caregiver.
Here's a pick of our top eight Tohu Whenua heritage places that are perfect to visit with your young ones.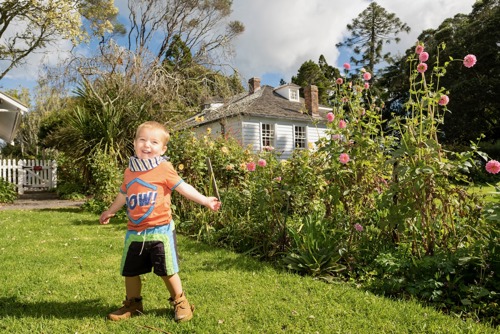 Te Waimate Mission. Image: Mark Russell
Te Waimate Mission, Northland
Located in the hinterland near Kerikeri, Te Waimate Mission is a hidden gem that tells the story of our country's oldest European farm. The self-guided scavenger hunt leads children through the garden and mission house as they imagine what life here was like for Europeans and Māori in the bustling settlement. Feed the friendly Pitt Island sheep, picnic in the garden, play old-fashioned lawn games, and learn about the Treaty of Waitangi which was signed here just a few days after it was signed at Waitangi.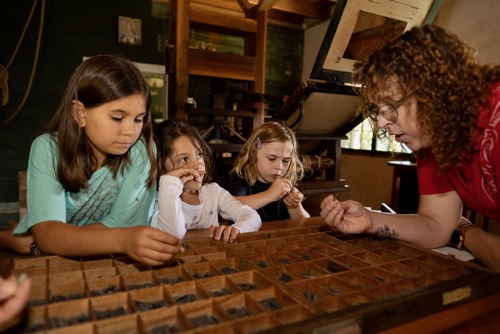 Pompallier Mission and Printery. Image: Mark Russell
Pompallier Mission and Printery, Northland
Located on the beachfront in the heart of Russell, this Tohu Whenua is our country's only surviving pioneer printery and tannery. Almost 40,000 prayer books in te reo Māori (Māori language) were produced here in the 19th century. Kids are encouraged to get hands-on as the tour guides demonstrate each step of printing and book-binding, from setting print to tanning leather hides. They can also play games in the heritage-listed garden while you relax with a French pastry at the onsite coffee house.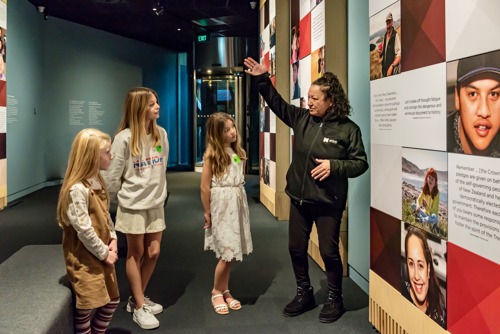 Waitangi Treaty Grounds. Image: Waitangi Treaty Grounds
Waitangi Treaty Grounds, Northland
A visit to the Waitangi Treaty Grounds is a rite of passage for every young New Zealander. Set aside at least half a day, there is so much to see and do. Start off with a guided tour, which culminates with an impressive kapa haka performance in Te Whare Rūnanga the carved meeting house. Then explore at your own pace - your kids can do a self-guided scavenger hunt along the way. Be wowed by the world's largest waka taua (war canoe), watch Māori art being created in the carving studio, get interactive with the museum displays, refuel at the onsite cafe, then play cricket on the grounds near the Waitangi flagstaff.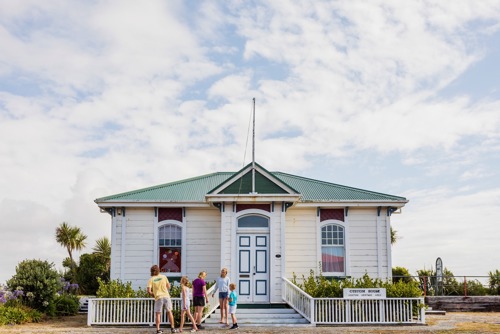 Hokitika Port, Commercial and Government Centre. Image: Jason Blair
Hokitika Port, Commercial and Government Centre, West Coast
Hokitika is the perfect gateway to start your West Coast family holiday - it's long been a place for travellers. Māori came to find pounamu (jade) and the first Europeans rushed here for gold. Spend time with your kids at the beach to look for your own pounamu keepsake - perhaps get it carved by a local artisan to create a new family heirloom. For the perfect picnic dinner, grab some fish and chips then climb aboard the replica ship Tambo to appreciate the other type of gold Hokitika is famous for - its spectacular sunsets.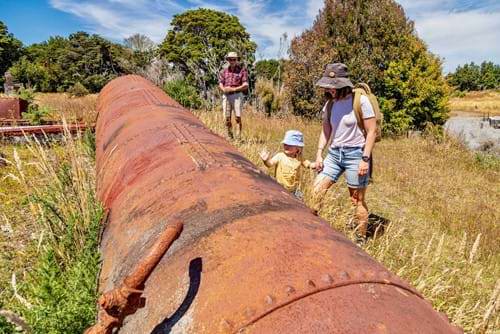 Waiuta. Image: Jason Blair
Waiuta, West Coast
Once the largest producer of gold on the West Coast, Waiuta is a popular place for families. It's outdoors, there are heaps of ghost town relics to explore, and the many photograph panels show what life was like for the community who once lived here (including kids!). Peep into the old police cottage and barbershop, explore the Blackwater mine buildings, play on the old rugby field and look for the remains of the Olympic size swimming pool. Then follow the road up to Prohibition Hill for even more impressive mining ruins, including the country's deepest mine shaft (closed in). Ideal for picnics, or plan an overnight stay by booking a bunk at Waiuta Lodge through the Department of Conservation.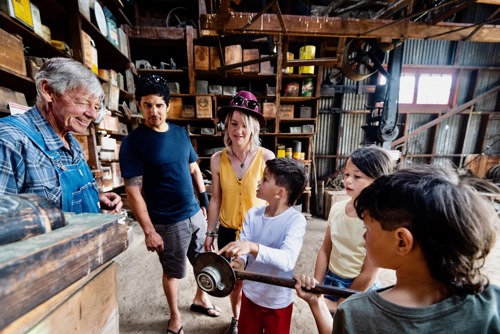 Hayes Engineering Works and Homestead. Image: Clare Toia-Bailey
Hayes Engineering Works and Homestead, Otago
Hayes Engineering Works is a kid's treasure trove. It was at this Tohu Whenua that 19th century inventor Ernest Hayes developed many labour-saving devices for pastoral farming. Many of his inventions and the tools with which he made them are where he left them. Kids are encouraged to rummage and get hands-on. If your schedule is flexible time your visit for one of the operational open days when Ernest's machinery is fired up in all its whirring, clanking glory. There's plenty of outside space to roam and discover - windmills, tractors, sheds with more interactive devices, friendly sheep, and an award-winning cafe with outdoor seating for lunch.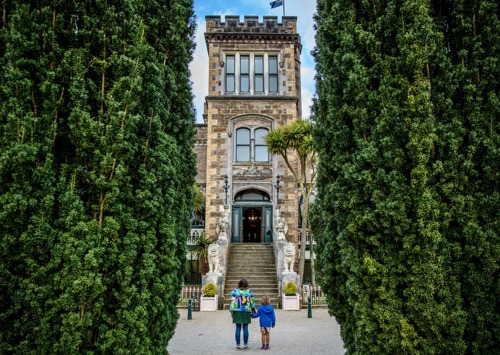 Larnach Castle. Image: Dunedin NZ
Larnach Castle, Otago
Why do kids love Larnach Castle? First there's the wow factor - it's our country's only historic castle. There are countless grand rooms to discover, a winding staircase that leads to a turret, even a ballroom. The garden is the perfect place for a treasure hunt, especially finding the Alice in Wonderland features. You'll hear about and experience life in a castle in Victorian New Zealand, and what it was like for the Barker children (whose parents bought the castle in the 1960s) to grow up here.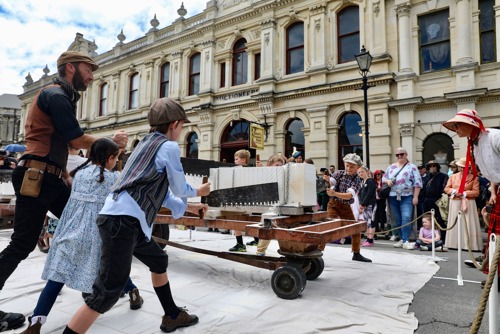 Historic Ōamaru. Image: Waitaki District Council
Historic Ōamaru, Otago
Let historic Ōamaru provide a whole day of family fun. The most obvious place to start is by exploring the Victorian Precinct, where you often see artisans, shopkeepers and other enthusiastic locals wearing Victorian costume. Don't miss Whitestone City, a quirky museum where you're encouraged to touch and try everything, from learning parlour games to riding the country's only pennyfarthing carousel. Just a few doors down is the Steampunk Museum, whose theme is carried on at the waterfront playground with its pirate ship, giant elephant and pennyfarthing swing set. A top tip for portrait loving parents: on Thursdays the Victorian Wardrobe opens up its doors, allowing you to dress up for a heritage-themed holiday memento.
Story by Claudia Babirat
Follow us and share your #TohuWhenua