Central Otago Touring Route
One of New Zealand's finest road trips takes you to nine of Otago's Tohu Whenua heritage experiences.
The 341-kilometre Central Otago Touring Route follows scenic highways from the Pacific Ocean to the foot of the Southern Alps via the beautiful Strath Taieri and Maniototo Plains, taking you to nine Tohu Whenua - our most treasured heritage places. Explore charming gold mining villages, take a family steamship cruise, go cycling, check out an eclectic inventor's workshop, have high tea at a castle, and much more.
So pack your swag, crank up the car and discover the places that tell the stories of our country's most defining moments in time.
DAY 1 - QUEENSTOWN
Begin you journey through history of Otago in Queenstown. The town that is known as the home of Adventure is also home to several iconic heritage sites that tell the stories of the regions pioneering past.
ARROWTOWN
What better way to start your day than with a visit to Arrowtown, a charming gold-rush village nestled below the beautiful peaks that surround the sparkling Arrow River. Stroll along Buckingham Street where wealthy banks and merchants traded in the mid-1800s, then peep inside the many restored huts on the edge of town where Chinese miners led a much more modest existence.
TSS EARNSLAW
It's one of the best ways to see Queenstown's surrounding landscape – an afternoon cruise across Lake Wakatipu aboard the iconic century-old coal fired steamship, the TSS Earnslaw. In the days before any roads existed, she ferried people, sheep and goods to lake destinations. Take a cruise from Steamers Wharf, see the giant steam engines at work, and let the iconic alpine scenery take your breath away.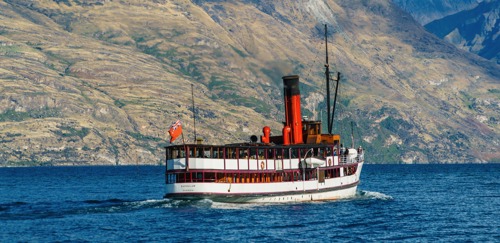 Image: TSS Earnslaw, Real Journeys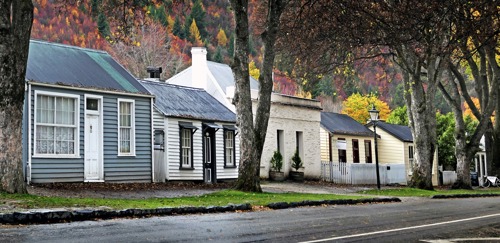 Image: Part of historic Arrowtown, Bernard Spragg (CCO 1.0)
DAY 2 - QUEENSTOWN TO CROMWELL
This morning take your time to travel through the stunning Kawarau Gorge. The road winds itself through a powerful gorge carved by the Kawarau River. A 45 minute drive from Queenstown will have you arrive in Cromwell & Bannockburn.
KAWARAU SUSPENSION BRIDGE
A stop at one of the country's most iconic bridges is a must. Kawarau Suspension Bridge is 138 years old. Back in the day, the bridge's designer Harry Higginson won a top world engineering award for his innovative design, allowing safe crossing of the notoriously windy canyon.
In 1988 it became the world birthplace of bungy with people leaping from the equivalent of a 10-storey building. Walk across the bridge and marvel at the extraordinary feat of design, then continue along the Gibbston River Wine Trail for spectacular views of the river and gorge.
BANNOCKBURN SLUICINGS
After lunch at one of the nearby wineries, make your way to Bannockburn Sluicings, a spectacular man-made landscape of cliffs and pinnacles. Choose one of several tracks that take you past the remains of dams, tunnels, walls and water races that were built to flush out gold.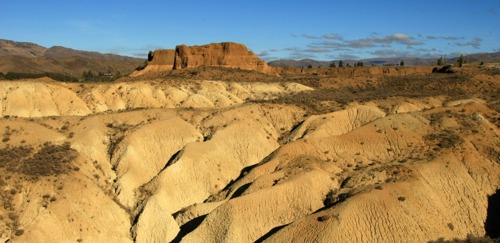 Image: Bannockburn Sluicings, Becker Fraser Photos
DAY 3 - CROMWELL TO THE MANIOTOTO
From Cromwell drive alongside Lake Dunstan towards Clyde and Alexandra. Spend some time exploring the Clyde Heritage Precinct or walking to Alexandra's iconic Clock on the Hill. Then drive on towards Omakau and get ready to explore NZ's Original Great Ride and Tohu Whenua the Otago Central Rail Trail.
OTAGO CENTRAL RAIL TRAIL
If you have your heart set on riding on this famous historic trail but can't commit to a multi-day adventure, fear not! The Poolburn Gorge section of the Otago Central Railway is a great way to sample some of the highlights in a day. This includes the famous Poolburn Viaduct, two tunnels, a secluded gorge where you can have a picnic lunch, and the longest bridge on the Trail (Manuherikia Bridge) which doubles as a great spot for a swim.
DAY 4 - MANIOTOTO TO DUNEDIN
The wide open spaces of the Maniototo Plains have inspired many creations, from the ingenious creations of Ernest Hayes to iconic NZ artworks. Enjoy the drive and southern hospitality as you drive through the small townships on your way to Dunedin, the Edinburgh of the South.
HAYES ENGINEERING WORKS
Plan to spend at least a couple of hours at Hayes Engineering Works, located halfway along the Central Otago Touring Route. This small farm celebrates early 20th century 'Kiwi ingenuity' at its best. Marvel at the mud brick home and workshop where rural inventor Ernest 'Ernie' Hayes developed agricultural labour-saving devices including the fence-fixing wire strainer, rabbit baiters and windmills, while his wife Hannah cycled around the region in ankle length skirts taking orders for his wares. Have a hearty lunch at the on-site cafe before the scenic drive to Dunedin.
DUNEDIN RAILWAY STATION
An afternoon stroll through Dunedin's city centre will invariably culminate at one of the city's most opulent buildings, the Dunedin Railway Station. Ornate and flamboyant, this 'giant gingerbread house' is said to be New Zealand's most photographed building. Built when 100 trains would come and go in a day, the station is now home to a restaurant, gallery and the New Zealand Sports Hall of Fame.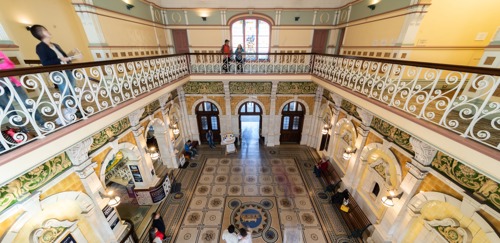 Image: Dunedin Railway Station, DunedinNZ
DAY 5 - DUNEDIN
Today spend your time exploring the beautiful heritage buildings of Dunedin - there's more than enough to spend a day or two learning about the early European settlers.
OLVESTON
Olveston has been loved by visitors since it was gifted to the city of Dunedin in 1967. Immerse yourself in how the wealthy Theomin family lived in the first half of the 20th century, surrounded by beautiful things including a vast array of fine art, furniture and artifacts collected from around the world. Entry to the house is by guided tour.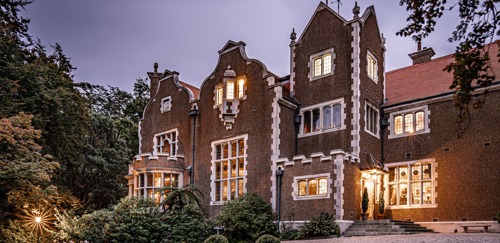 Image: Olveston, DunedinNZ
LARNACH CASTLE
Located on majestic Otago Peninsula, only half an hour out of Dunedin, Larnach Castle tells a colourful story. The majestic mansion was built in the 1870s sparing no expense. William Larnach's personal fortunes later crumbled and his grand vision fell into disrepair. From then the castle's fortunes ebbed and flowed as it passed through several hands and fell into such a state that the ballroom was at one point used to shelter sheep. The lavishly restored castle is now one of New Zealand's premier visitor attractions.
Follow us and share your #TohuWhenua